Mission Statement
Members of the Marine Corps League join together in camaraderie and fellowship for the purpose of preserving the traditions and promoting the interests of the United States Marine Corps, banding together those who are now serving in the United States Marine Corps and those who have been honorably discharged from that service that they may effectively promote the ideals of American freedom and democracy, voluntarily aiding and rendering assistance to all Marines, FMF Corpsmen, and FMF Navy Chaplains and former Marines, FMF Corpsmen, and FMF Navy Chaplains and to their widows and orphans; and to perpetuate the history of the United States Marine Corps and by fitting acts to observe the anniversaries of historical occasions of particular interest to Marines.
Click here for Map and Directions Link
NEXT MEETING WILL BE 16 NOV 2019
MONTHLY BUSINESS MEETINGS
Our meetings are held on the 3rd Saturday of each month, except one month in the Spring for our annual picnic and December for our Christmas Party (see Calendar for those events). Breakfast is served at 0900 followed by the business meeting at 1000. The meeting location is the B. W. Howard American Legion Post 171 located at 8325 1st Avenue North, Birmingham, AL 35206.
L/CPL Ryan G Winslow - RIP April 15, 2006
G/Sgt. Herman J Murkerson Jr - RIP October 1, 2007
AWARDS
Marine of the Year 2019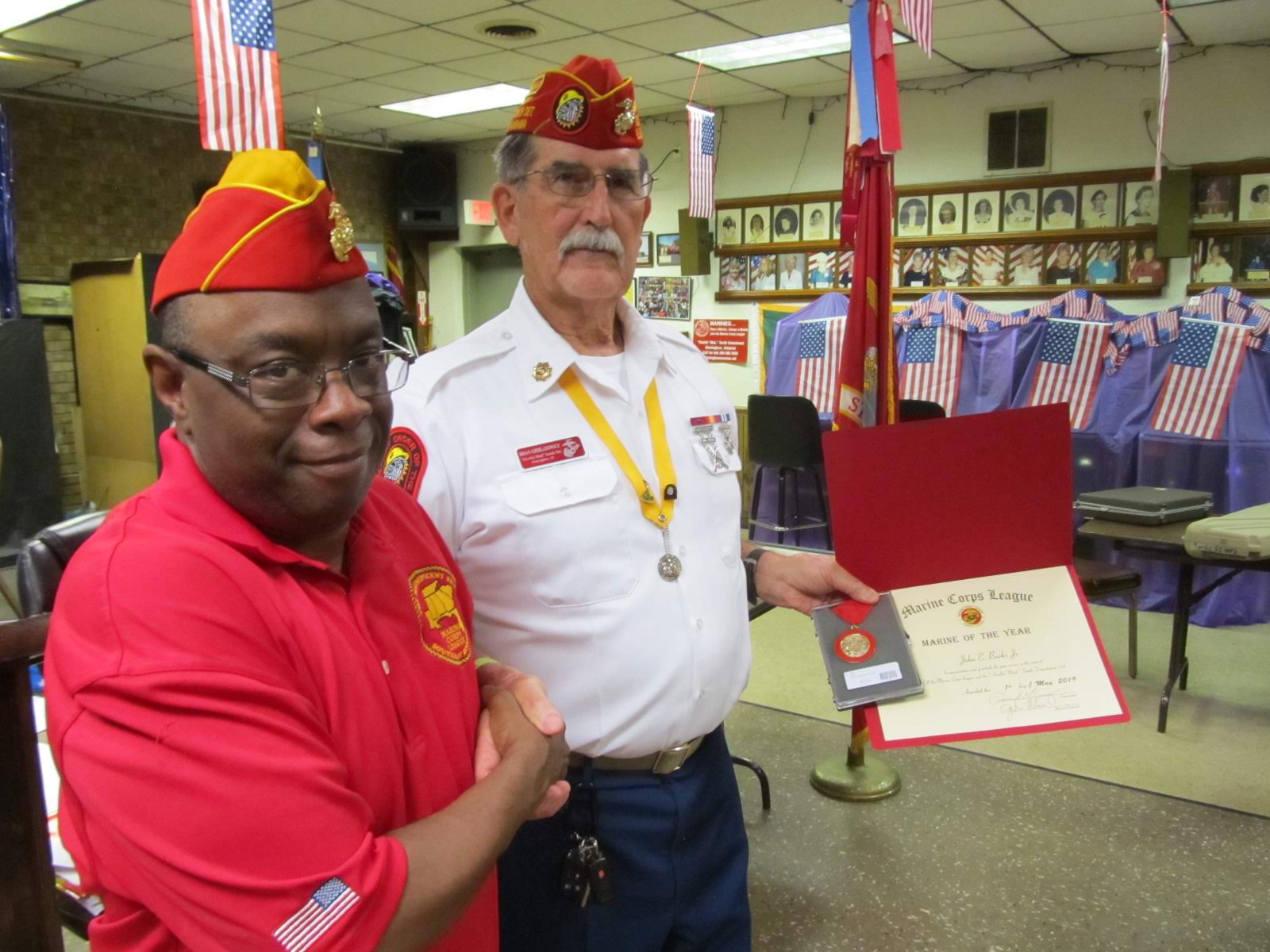 Chaplain John E. Burks, Jr. Awarded Marine of the Year by Commandant Brian Gierlatowicz
Associate Marine of the Year 2019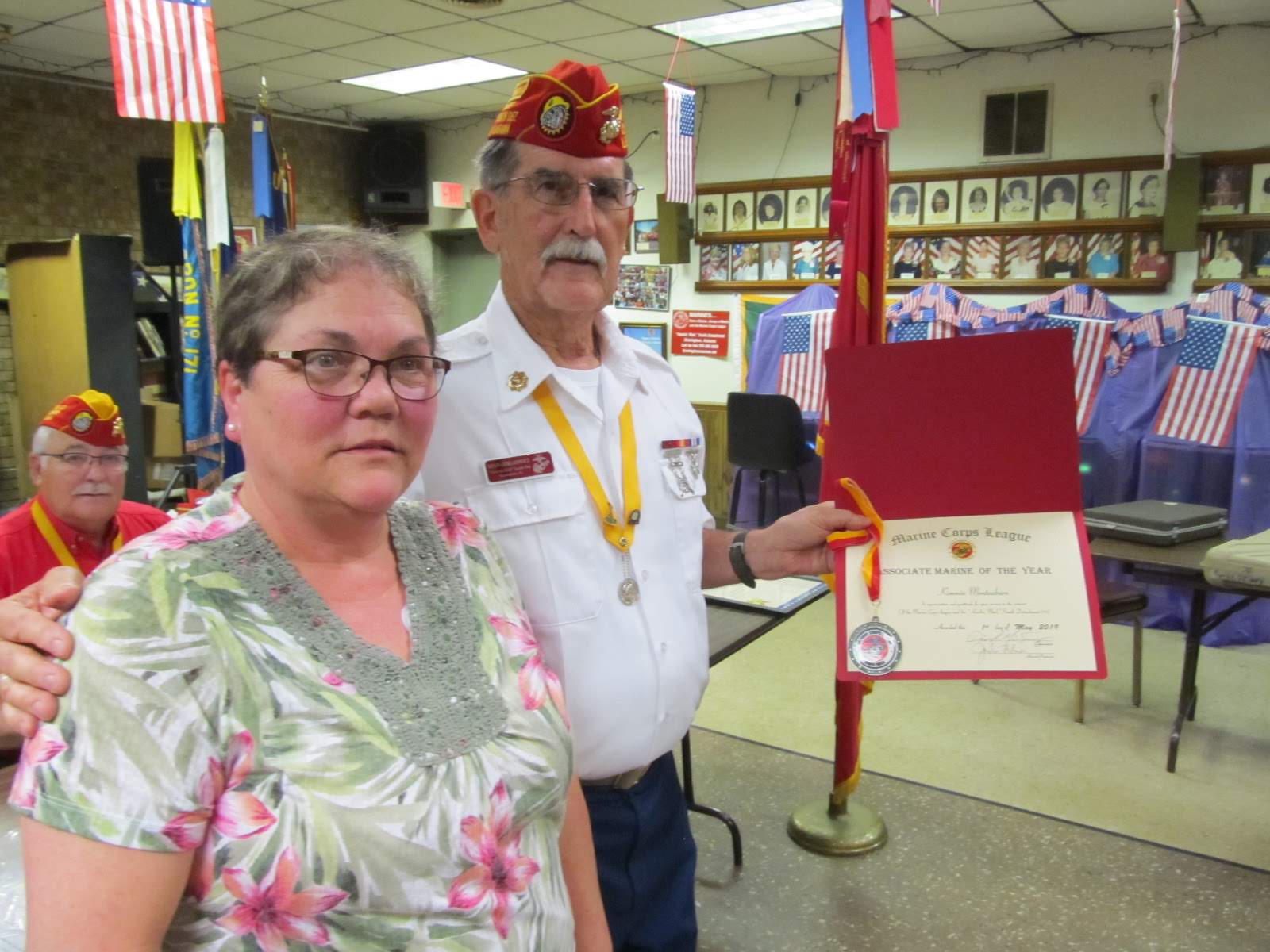 Kimmie Monteabaro Awarded Associate Marine of the Year by Commandant Brian Gierlatowicz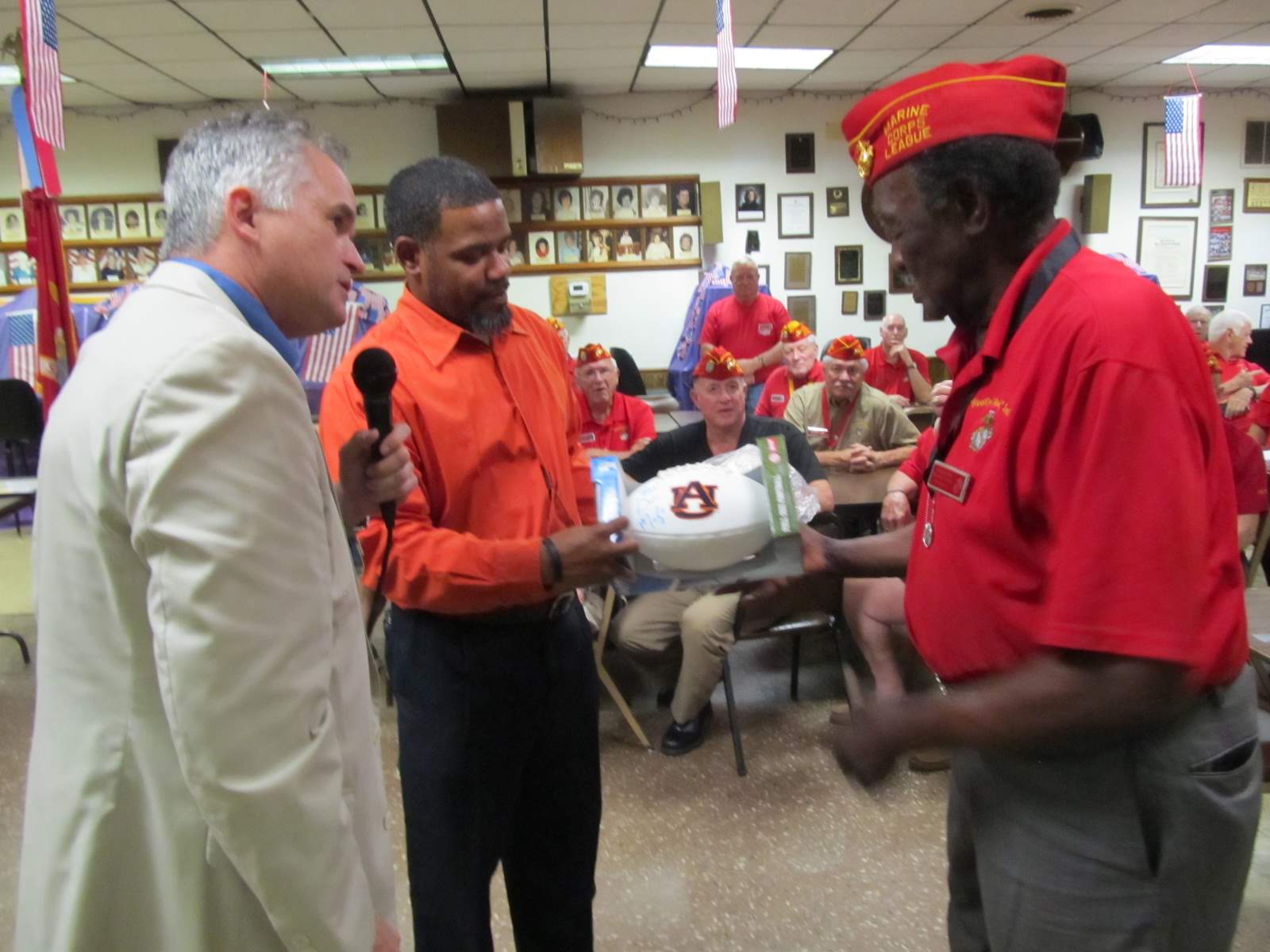 Marine George Sims is awarded an Auburn Football signed by Auburn Coach Gus Malzone by Lettermen of the U.S.A.
91 Year old Korean War Veteran George Sims was presented an Auburn football signed by Auburn's head coach Gus Malzone and an Auburn hardhat signed by former Auburn head coach Pat Dye by
Lettermen of the U.S.A.'s
Darryl Fuhrman and Adlai Trone.
244th MARINE CORPS BIRTHDAY CELEBRATION
1000 - 1200 SATURDAY 09 NOVEMBER 2019
AMERICAN LEGION POST 171
8325 1st Avenue North
Birmingham, AL 35206
Cake Cutting at 1015
Oldest & Youngest Marine Ceremony
Finger Foods will be Served
Need volunteers to decorate at 0900 please
ANNUAL CHRISTMAS PARTY
TOYS FOR TOTS
07 DECEMBER 2018 MEET @ 10:00 am, FLAG PRESENTATION @ 11:00 am, CHOW to follow.
B. W. Howard American Legion Post 171
8325 1st Avenue North, Birmingham, AL 35206
Please bring unwrapped gift or toy
Bring a dessert if you can
NOW HEAR THIS !
FIRST CALL
WEDNESDAY, 16 OCTOBER
0900 AT BENT BROOK
SIXTH ANNUAL HOWLIN' MAD SMITH
GOLF OPEN
SPONSORED BY DETACHMENT 592 OF THE MARINE CORPS LEAGUE
For more Tournament information click HERE
DEPARTMENT OF ALABAMA
QUARTERLY MEETING
0900 SATURDAY JANUARY 4, 2020
AMERICAN LEGION POST 133
4980 MAIN ST
MILLBROOK, AL 36054
Department of Alabama Marine Corps League 35th Annual Convention
26 - 27 June 2020
by L/Cpl Jonathan L. Smith Detachment #1427
at DoubleTree by Hilton, 111 6th Ave NE, Decatur, AL 35601
2020 Department Convention Information.
Honoring Korean War Veterans
The Alabama Department of Veterans Affairs is seeking Korean War veterans for the Korean Ambassador of Peace medal. The Korean government would like to show their respect and gratitude for the devotion and sacrifice of the U.S. troops during the Korean War by presenting the medals to veterans. Read More.
Important Message from the Office of Personnel Management
Good Afternoon, My name is Lindsay Haake and I'm a Public Affairs Specialist with the Office of Personnel Management (OPM) in Washington, D.C. The National Defense Authorization Act of 2017 granted eligibility to certain TRICARE members to obtain benefits under the Federal Employees Dental and Vision Program (FEDVIP). Attached are communication materials that provide detailed information about the transition from the TRICARE Retiree Dental Program to FEDVIP. This transition applies to military retirees, their families and the families of active duty service members. Please use these materials, as you deem appropriate, to inform your members of this significant change in their dental and vision coverage. It is important to note that if these veterans and family members do not select a carrier in this year's Federal Benefits Open Season, they will NOT have coverage in 2019. This transition potentially effects approximately 5.4 million individuals; therefore, we are eager to get the message out to military organizations worldwide. If you have any questions regarding these materials, please contact me at Lindsay Haake
Please send all media inquiries to media@opm.gov
VA and IBM Watson Health Extend Partnership to Support Veterans With Cancer
July 19, 2018
WASHINGTON — Today the U.S. Department of Veterans Affairs (VA) and IBM Watson Health announced the extension of a public-private partnership to apply artificial intelligence (AI) to help interpret cancer data in the treatment of Veteran patients. Read More.
ALABAMA G.I. DEPENDENTS' SCHOLARSHIP PROGRAM
This academic scholarship program is administrated by the State of Alabama, Department of Veterans Affairs, and applies to the dependents of Alabama's disabled veterans. The following link will provide the information required. ALABAMA GI DEPENDENTS' SCHOLARSHIP PROGRAM Also, this pamphlet dated May 2014 may be helpful PAMPHLET.
MARKSMANSHIP INFORMATION
LINKS OF INTEREST
The Marine Corps League National Website
The Magnificent Seven - Marine Corps League Southeast Division
Alabama Marine Corps League
Department of Alabama Newsletter
Lettermen of the U.S.A
Know Anyone With Hearing Loss?
American Legion Post 171 Calendar (PDF)
Kelly Ingram VFW
Uniform Info for MCL
Support Our Troops
The Fleet Reserve Association Americanism-Patriotism Essay Contest
Team Red, White & Blue
The Marine Corps League Foundation
Marines Helping Marines
Military Order of the Purple Heart
Vietnam Veterans of America
American Gold Star Mothers
Agent Orange Survey
Cahaba Valley Young Marines
Three Hots and a Cot
Blue Star Salute Foundation
LeJeune Water Contamination
EIN Donation Receipt
Download the latest version of Adobe Acrobat to view PDF documents